Sunday was a blast, despite the cold wind and rain. I waited a whole year to see the Seattle Sounders in Toronto. Both teams have been overhauled for this season, mostly Toronto, and both teams seemed much different from those of last year. Toronto's has definitely improved. TFC won 2-0. Seattle was much stronger last year, although I think this Sunday's weak performance was down to the travelling time and jet lag...over 3,000 miles from Seattle to Toronto, time zone difference and Sunday's poor weather all being a factor. Toronto was really good...Dwayne DeRosario, Juan DeGuzman, Martin Saric and pretty much all the others did a fantastic job. Stefan Frei the goalkeeper made some great saves, including one hard shot from Fredy Montero. I was disappointed that Fredy did not start. He came on at 20 minutes but it was not enough time to bring Seattle back into the game. They seemed listless. Freddie Ljungberg was really good though...quite a showman...the Toronto Ultras hated him (LOL) but he was a lot of fun to watch. He's very tricky. Anyway, below the cut are my photos and some
good
professional pics from the match.
Some of my impressions:
The hottest bodies on the pitch belonged to Fredy Montero, Dwayne DeRosario and Martin Saric.
The best, most active and skilled players were (for Toronto) Dwayne DeRosario, Juan DeGuzman, O'Brian White and Martin Saric. (For Seattle) Freddie Ljungberg and Fredy Montero. I was surprised by how little Freddie Ljungberg is...he's tiny, but still very quick. I watched the Seattle boys warming up before the game and was struck by how amiable Fredy Montero is. He was the one doing most of the laughing and joking with the other players...he was
always
smiling and was very animated. And he is in awesome shape...his body made my jaw drop...he is that fit!
We were seated in a new section of stands, situated above the seating area with the patio tables at the north end right behind the goal. The seats were fantastic, with an awesome view. You can sort of see it in my photos, even though it was raining and therefore the pics are not as good as they could have been.
Here's a teaser (one of the professional photos):
Juan DeGuzman and Freddie Ljunberg after the game was over: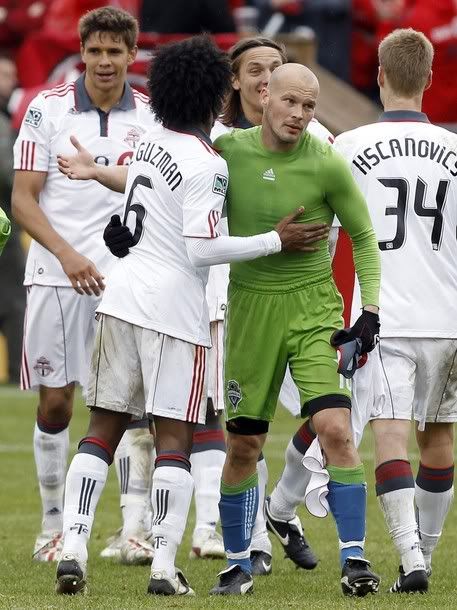 ( MORE PICS HERE )